Product Description
Business Card Composer is a great solution for designing and printing your ID cards on a Mac. It has built in support for our 8-up and 1-up Teslin sheets, all of our Inkjet PVC Card Trays, and also for Evolis Card Printers. This is a great, low-cost solution for making ID cards using your Mac! We've been using this software ourselves and can attest to how well it works.
Overview
Built-in Support for 1-Up and 8-Up Teslin Sheets, Inkjet PVC Card Trays, and Evolis Card Printers
Supports Variable Data ID Badges
Makes it easy to print as many, or as few, ID badges as you need
Duplex support for printers that support it
Easy to calibrate precise printing location if needed
Supports bleeds for edge-to-edge ID cards
Built-in ID Card Editor supports masks, gradients, guides, image cropping and manipulation, and easy editing of the background/foreground of your ID cards
Integrates with Address Book/Contacts, iPhoto, and Aperture
Supports Barcodes: Data Matrix, QR, and Code 128. Other barcodes can be imported as a photo from external applications.
Includes over 1,000 clipart images and 100 image masks.
Powerful Layout and Design Tools
Designing your ID Cards is a breeze with this software. You can insert shapes (squares, circles, arrows, triangles, and about 20 others), images (which can be variable), text (including variable data, counters, date/times), and photos. Shapes and text can have linear and radial gradient fills, color fills, custom strokes, and tiling. All items can be rotated and have their transparency adjusted, and have shadows and borders added to them. Both the front and back of your ID card live in the same document and you can also easily switch between the Foreground/Background of your design, this makes editing your background much easier allowing you to create intricate designs.
Powerful Photo Editing Tools
The built in photo editor allows you to apply over 60 filters, including adjusting color, exposure, gamma, hue, white point, noise reduction, and more, you can use masks on your photos as well as crop, scale, rotate, and skew them. Adding a border to your photos is as simple as clicking one checkbox.
Mac OS X Integration
Business Card Composer integrates with applications such as Address Book(Contacts in Mac OS X 10.8+) , iPhoto and Aperture. The ability to replace images automatically, import data from the text files and capability to numerate cards make this program great for creating badges. Variable ID Card Data is supported via Address Book(Contacts in Mac OS X 10.8+) entries, or from Text File (which can be exported from Excel or Numbers).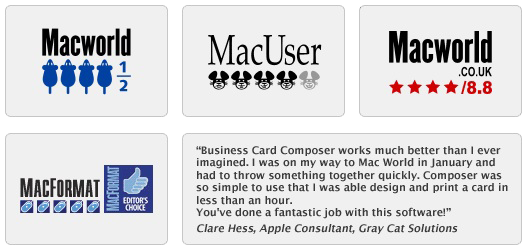 All Features
Graphics
More than 1,000+ clipart images.
More than 100 unique image masks.
Apply Mac OS X Core Image filters to your images.
Design ID Badges
Horizontal and vertical layouts supported.
Full support for double-sided cards. Both sides are saved in the same document, allowing you to switch between sides on a fly and print them with ease.
Smart guides help to arrange design elements neatly.
Option to manually set object position and size.
Adjust vertical spacing or distribute objects vertically and horizontally.
Horizontal and vertical object alignment.
Make use of adjustable shadows with color settings.
3 alignment modes, including text alignment within text boxes.
Supports object editing on Background and Foreground layers, which helps to create advanced card designs.
Generate Code 128 barcode, as well as 2-dimensional barcodes, Data Matrix and QR (Quick Response).
Integration with Apple iPhoto and Aperture lets preview and use pictures from the iPhoto libraries.
Working with Graphics
Tint images with colors, tile and rotate them, as well as change their transparency.
Fill different objects with Linear or Radial gradients.
Insert images in many supported formats — TIFF, JPEG, GIF, PDF, EPS and more.
7,000 photo objects with transparent background can be applied to any picture to create mixed designs.
Search for images by keywords (searches Google Images).
Image cropping allows you to crop images directly in the application.
A custom image can be used as a mask in addition to the predesigned masks.
Select multiple objects with the ability to resize and rotate them as a single item.
Converting a text object into an image allows you to apply image effects to it.
Technologies
Integration with Apple Address Book/Contacts — drag and drop contacts right onto your cards.
Integration with iPhoto lets preview and use pictures from the iPhoto libraries.
Search images in Google right from Business Card Composer.
Images from a custom folder can be used along with the built-in clipart.
Generate fancy random backgrounds with a click of the button.
The counter feature allows you to enumerate cards and assign each card a unique number.
Text File Data support allows you to read data from text files.
Merge Image functionality allows you to import and auto-replace images from Address Book/Contacts, iPhoto and Finder. This can be used for creating badges and printing iPhoto thumbnails.
Spotlight support allows the system to search a text within your saved documents.
Quick Look technology support allows you to view the content of a file without even opening it.
Usability
3-step Assistant to get started quickly.
Customizable export to PDF and TIFF allows to save your design in a format appropriate for sending to a professional print shop.
Ruler and measurement units save you time on editing data.
Print Cards
Printer calibration allows to fine-tune the printer for accurate results.
Cut marks can be printed — helpful for printing on non-perforated Teslin®.
Control the number of cards you want to print and the position on the sheet from where to start printing.
Duplex printers support for printing double-sided cards.
New printing technology allows for choosing among 3 printing methods. You can either print cards for yourself, or print one design for several people, or print multiple designs on one sheet.
In the printing process, the preview window includes additional settings for modifications on the fly.
The Text to Curve feature (using export options) lets you transform the document into vector image. This will help to avoid problems with font absence if you send a document to a printshop.
Additional Information
| | |
| --- | --- |
| Part Number | No |
| System Requirements | Mac OS X 10.5 or later. Mac OS X 10.8 Mountain Lion compatible. Not compatible with any versions of Windows. |
| Languages Supported | English, French, German, Spanish |