Example ID Card Templates
We have produced a few example ID cards for our customers to use, and for use in our tutorials. Feel free to modify them for your own company, school, or membership ID card.
Generate A Custom Printing Template
If you already have your ID card as a JPG or PNG image you can use our ID Card Printing Tool to generate a PDF with your ID cards placed in the correct spots for printing. It's easy to use, includes printing instructions, and runs entirely on your computer in your web browser.
---
Example Co. - Company ID Card Template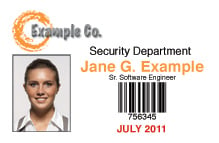 This template is available for Microsoft Word, Apple Pages, GIMP (free download), Adobe Photoshop and Adobe Illustrator.

Download Example ID - Word
Download Example ID - Pages
Download Example ID Horizontal Layout - Photoshop
Download Example ID Vertical Layout - Photoshop
Download Example ID - GIMP
Download Example ID - Illustrator

---
Calibration Lines Image This image is 3.5" x 2.25", so it is a standard 3.375" x 2.125" credit card size with a full bleed. This is a high resolution image, so some applications may show it as being much larger. If the application you are using does this, you will need to re-size the image to be 3.5" x 2.25".
This image can be used with any of our templates to ensure the template is printing in the correct location. To use it, simply right click on the image and save to your computer (or copy to the clipboard). Insert in the template and align the image so that the black lines are where the edges of the ID card should be. You can use this image for each card position (if you have more than one), but we normally only use it in one position - this saves ink, paper/cards, and time printing.
When printed the black lines should print right on the edge of your ID card. If they do not, you can adjust your template by using the red lines as a guide. There should be 2 red lines outside the card and 4 on the ID card.