Example ID Card Templates
We have produced a few example ID cards for our customers to use, and for use in our tutorials. Feel free to modify them for your own company, school, or membership ID card.
Generate A Custom Printing Template
If you already have your ID card as a JPG or PNG image you can use our ID Card Printing Tool to generate a PDF with your ID cards placed in the correct spots for printing. It's easy to use, includes printing instructions, and runs entirely on your computer in your web browser.
---
Example Co. - Company ID Card Template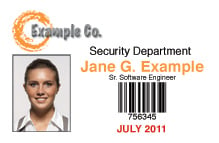 This template is available for Microsoft Word, Apple Pages, GIMP (free download), Adobe Photoshop and Adobe Illustrator.

Download Example ID - Word
Download Example ID - Pages
Download Example ID Horizontal Layout - Photoshop
Download Example ID Vertical Layout - Photoshop
Download Example ID - GIMP
Download Example ID - Illustrator

---