ID Learning Center: Tips & Tricks
ID Size
A typical ID is Credit Card Size, 3.375" x 2.125" (86mm x 54mm).
Calculating ID Thickness
For reference remember that a typical credit card is between 24 and 30 mil thick. Here at Brainstorm we prefer to go with a 24 mil card made of 10 Mil Teslin and a 7 mil laminate.
To determine the thickness of an ID you have made simply add the thickness of each part. Be sure to remember that a butterfly pouch has two sides (front and back). For example if you were to make your ID using:
| Synthetic Paper Thickness | Pouch Thickness | Total |
| --- | --- | --- |
| 10 Mil | 7 mil x 2 = 14 mil | 24 mil |
| 14 Mil | 7 mil x 2 = 14 mil | 28 mil |
| 10 Mil | 10 mil x 2 = 20 mil | 30 mil |
Of course, if you are using full sheet laminates instead of a butterfly pouch you will want to take in to account the thickness of the laminate on each side of the Teslin® Substrate.
Laminate Thickness Comparison Video
Gloss and Matte Reflection Comparison Video
Designing Your ID
When designing your own ID be sure to leave some room for printer misalignment by leaving some white space around the edges of your ID, or use what is called a bleed. To use a bleed simply produce your ID such that your background extends beyond your actual ID size, that way when you punch the card out you will have your background all the way to the edges.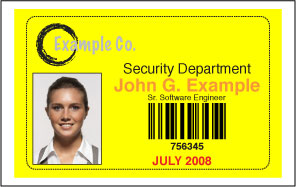 In this illustration we wanted to make our ID yellow all the way to the edge, the dashed line indicates the IDs actual outline. As you can see the yellow background extends beyond our actual card size and will make for an ID with a great edge to edge background.
Printer Tips
Be sure to visit our Printer Settings page for printer-specific printing advice.
Inkjet Printer Tips
Clean Your Print Heads: Most printers come with software which can run a print head test and also clean your print heads. See your printers documentation or check your printer manufacturer's web site for detailed information.
Use branded ink: Although more expensive, it can make a big difference in print quality and will usually result in less clogged print heads.
Turn the printer off when not in use: Turning the printer off when not in use tucks the print head away to reduce the chance of clogging and dust collection which can worsen your print quality.
If you have an Epson printer which uses DuraBrite inks, use SP 1000 Teslin® Paper as it provides a better printing surface for these types of inks.
Laser Printer Tips
Only use SP 1000 or SP 1400 Teslin® Paper in your Laser printer. Inkjet Teslin® is not made to tolerate the higher temperatures exhibited in laser printers.
If possible, manually feed Teslin® to your Laser printer to prevent possible jamming.