What is Teslin® Synthetic Paper?
Durable
Teslin® paper is bright white and features excellent opacity, which makes it perfect for printing documents with many colors and bar codes.
Waterproof
The fact that Teslin® paper is waterproof makes it the material to use for a wide range of special applications including IDs, maps, signs, restaurant menus and more.
Secure
It is the most secure bonding sheet that exists for inks, toners, adhesives, and laminating films of all types. The lamination peel strength is between two and six times that of coated papers or other synthetic stocks. It also requires no edge seal to produce a durable, tamper-proof piece. For identification cards, licenses, and important travel documents, Teslin® paper remains secure.
What is Teslin® used for?
Teslin® can be used for a variety of applications. The application we specialize in is for use in making borderless, rigid ID cards without the need for a PVC card printer. But thats not all Teslin® can be used for. Teslin® is a water proof printable plastic material and is ideal for use anytime you need to ensure your printed documents are safe from the elements. It is also puncture and tear resistant. You can use it for printing topographical maps and directions for hiking trips, for outdoor signage, event tickets, permits, underwater tags, garden labels, menus, luggage tags, and of course for any kind of membership, promotion, name, or identification cards.
Which type of Teslin® should I buy?
The type of Teslin® you require will depend on how you plan to print on it.
I Have An Inkjet Printer
If you have an inkjet printer you will want to use Inkjet Teslin®. Our Inkjet Teslin® is commonly referred to as Teslin® IJ 1000WP or Double Sided Inkjet Teslin®. This type of Teslin® is best for use with all types of inkjet printers, and is double-sided so you get great print quality on both sides of the sheet. If you have an ink jet printer which uses pigment-based ink (such as Epson printers which use DuraBrite inks), you have the option of choosing inkjet, or SP 1000. If you are unsure, you can either try to find out which type of ink your printer uses, or go with Inkjet Teslin® to be sure.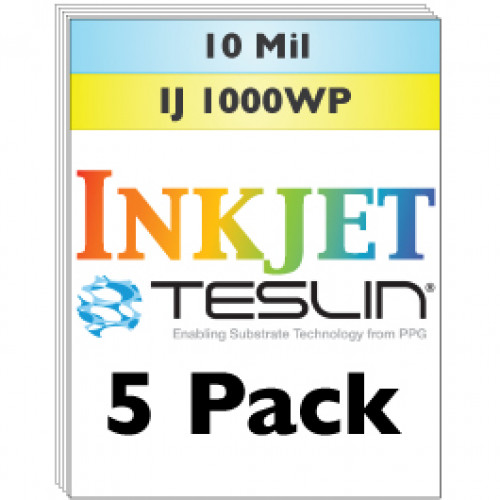 About this product:
10 mil 8.5" x 11" Inkjet Teslin Synthetic Paper (Double-sided) 5-Pack. Makes 40 ID Cards.
I Have A Laser Printer
Laser Teslin® is specially designed (chemical treated) to tolerate the higher temperatures of a laser printer to ensure minimal shrinkage during printing.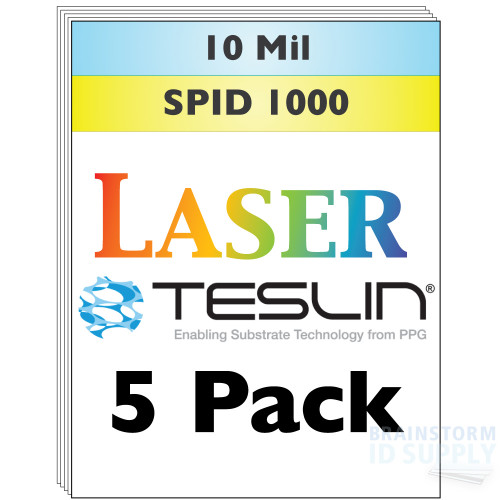 About this product:
10 mil 8.5" x 11" Laser Teslin (SPID 1000) Synthetic Paper 5-Pack. Makes 40 IDs.
I Plan To Use Another Printing Method
If you plan to use an offset press you can feel free to use either Laser Teslin®, or Teslin® SP 1000. If you plan to use a photocopier (electrophotographic/xerographic), or intaglio you will want to use Laser Teslin®.
What does Teslin® look like?
At first glance, Teslin® looks just like normal paper, but upon further inspection you'll see that it is very different. The easiest way to explain what we mean is to show you a video we made.
As you can see in the video, although Teslin® looks like normal paper, it does not have the same properties as normal paper. Teslin® will stretch like a thin plastic and is extremely tear resistant. These plastic-like properties are what makes Teslin® so special.
How thick is it? What does mil mean?
The thickness of the Teslin® we carry is either 10 mil or 14 mil. A "mil" is a thousandth of an inch (0.001", about 0.0254mm), so 10 mil is 0.01" (0.254mm) and 14 mil is 0.014" (0.3556mm). For most applications 10 mil is the desired thickness. If you require a much more rigid card, then 14 mil should be considered.
What is Perforated Teslin®?
Perforated Teslin® has perforated cut-outs to allow you to easily remove a printed card and insert it in to a butterfly pouch. We have multiple sheets featuring perforated card cut-outs, and we are able to provide sheets with custom layouts and sizes - contact us for more information! Our 8up Teslin sheets are 8.5" x 11" and have 8 credit card size (2.125" x 3.375") card punch-outs. Our 1up Teslin sheets are 4" x 6" and have 1 credit card size punch-out. We have templates available in the ID Learning Center.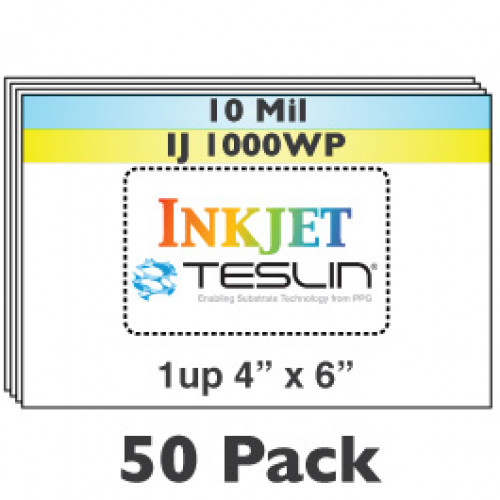 About this product:
50 Pack of 4"x 6" Inkjet Teslin Sheets (IJ1000WP). Each sheet has 1 Credit Card Size perforated punch out.
Can Teslin® Paper be used for things other than ID Cards?
It sure can be. In fact there are hundreds of uses! We've created a page dedicated to the many uses for Teslin® to help you find other Teslin® applications. Check back often as we are constantly updating the page as our customers point out the new and innovative ways they are making use of Teslin® Paper.
Is there anything else I'll need?
That will depend on your final application. You will probably want some kind of laminate, such as Butterfly Pouches or Full Sheet Laminate. If you are planning to make ID cards, be sure to check out our ID Learning Center for a lot more information on how all of our products come together to help you make professional ID easily. If you will be using your printed Teslin® for outdoor signs, maps, or tags and want to be able to fold it, you will be better off without a laminate.
Do you offer discounts for bulk orders?
Yes, we do! For cases and rolls of Teslin paper check out our Bulk Teslin Quote page. We stock many grades and thicknesses of Teslin in various sheet sizes with shipment within 1 business day. Additional grades, thicknesses, and sheet sizes of Teslin can be custom ordered according to your specifications, request a quote for pricing and lead time.
Can I Buy Teslin® In A Retail Store?
We have been asked this question many times so we created a page (Where can I buy Teslin Paper?) for it.
Can I get it in a different Size/Thickness/Layout?
Yes, you can! Contact us with your desired specs and we'll get you a detailed quote right away.