Teslin ID Cards & ID Kit Help
Teslin ID Card Tutorials
Generate A Custom Printing Template
If you already have your ID card as a JPG or PNG image you can use our ID Card Printing Tool to generate a PDF with your ID cards placed in the correct spots for printing. It's easy to use, includes printing instructions, and runs entirely on your computer in your web browser.
Downloads
ID Card Templates: Free downloadable ID Card Templates. Feel free to modify these when making your own ID cards.
8 Up Teslin Layout Templates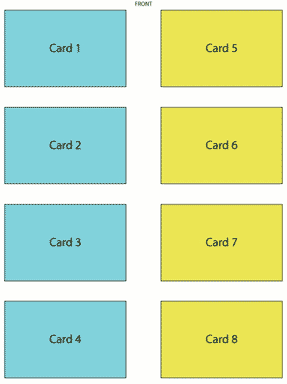 This template is available for Microsoft Word, Apple Pages, GIMP (free download), Adobe Photoshop and Adobe Illustrator. The template for GIMP/Photoshop is 600dpi. This template is setup for printing of 8 IDs. Guides are also setup in each document to facilitate layout and alignment.
1-Up Teslin Layout Templates
2-Up Teslin Layout Templates
Basic Alignment Templates
Use these PDFs to print test alignment sheets. You can then print on these sheets with your filled in 8-up or 1-up template to confirm everything will line up properly before printing on your Teslin paper.
Troubleshooting
We recommend starting with the Plain Paper setting for most printers. Set the print quality to the highest setting available. If you are not happy with the print quality we'd recommend changing the media type and testing with Matte Photo Paper settings. For most printers the Plain Paper setting works best however.